The good times just keep rolling here in LALA land. LALA, get it? Laura Ann, LA, LALA. Anyway, it's early. Deepbreath.
So I am all ready to head out the door to my instore gig at
T-Mobile
from noon to 4 today. I'm gonna be spinning all kinds of sick beats for the staff and customers. Hopefully it brings in a little more foot traffic, or prolongs the stay (and thus the purchases), of those stopping in. Either way, I'm looking forward to it as my lovely
Gingerlady
, and one of my best DJ friends ever (
DJ MISS FUNK
), both work there. So it'll be like a party where people just happen to be buying cell phones. No big whup! All the deets are below!
Then, after I finish up there, it's off to the heart of the city to pick up my business partner and bestie,
David "D$" Richey
and head to Oddfellow's on Capitol Hill to volunteer
Hard Times
style for
Homo For the Holidays
. That amazing show starring
BenDeLaCreme, Fuschia Foxxx, Jinx Monsoon, Cherdonna & Lou
and so much more!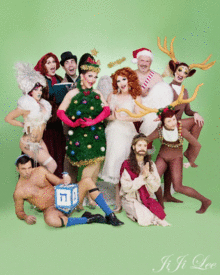 It also serves as the launch for the 10th issue of our beloved
Hard Times Press
! 10 issues, SO LIKE WOW DUDE! Here's a little teaser....
It's a limited edition issue and will be a total collectors item! All the presale for the show tonite have been snapped up, but we hear there are a few walk ups available! Get there early, grab a copy of
Hard Times
, and catch this AWE-mazing show!
Happy Saturday Babies!
XXX
L.A.K.